Plan A Visit /
Guided Tours
At MoCA we are proud of our specially curated guided group tours designed for all ages to engage with the museum's collection as well as the extraordinary monuments of Holy Hill of Old Goa. Our tours cover art, history and architecture and are for anyone interested in learning about Goa's unique heritage.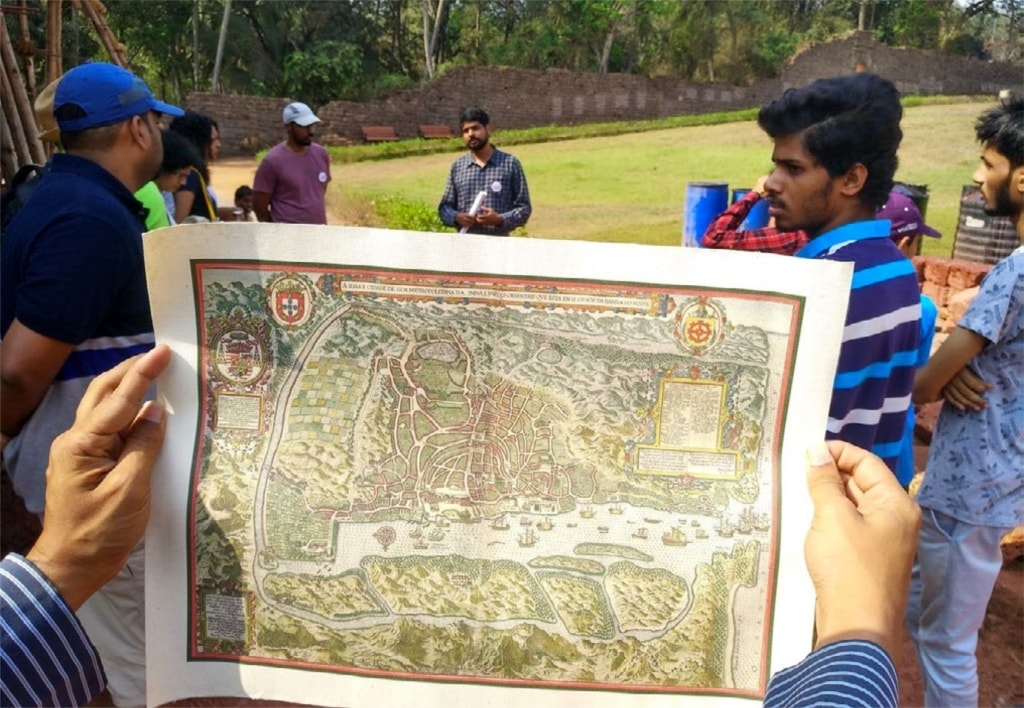 Customize your visit with the following guided-tour options.
Highlights of the Museum of Christian Art
This guided tour takes you on a journey from the early days of the Portuguese in India to present day Goa through the museum's collection of unique objects and contemporary exhibitions. Here we will take you through the finest examples of five centuries of Indo-Portuguese imagination and the intense artistic productivity of the Indian craftsmen of that period.
Tours will be conducted every Sunday starting at 11:30 hrs and lasting about an hour. Schedule a date and time for your
Museum Highlights
guided tour from our
Book Tickets
page.
Retracing Monte Santo (the Holy Hill Tour)
Join us on a two hour specially curated walk of the Holy Hill (or
Monte Santo
), in Old Goa, where we take you through the ruins of the imposing Augustinian Monastery, and let you soak in the blue interiors of the Royal Chapel of St Anthony. Stroll down the historic pathway that connects the Augustinian monuments through the flying buttresses of the Church of Santa Monica. While listening to enthralling stories about the cloistered nuns who once lived in the Convent of Santa Monica, explore the hidden artistic treasures discovered during the restoration of the Church and take a short walk-through the highlights of MoCA. And finally, marvel at the navigational influences on the Manuelian styled Church of Our Lady of the Rosary set against the dramatic backdrop of that river that enabled Old Goa to become a great global trading center of the 16th century.
The walk is aimed at students of art, architecture and history and anyone who is interested in being introduced to the heritage of Old Goa. This is ideal for groups of 15 or more. Schedule the date for your group tour from our
Book Tickets
page.
MoCA works in collaboration with historians, local academics and scholars and experienced travel organizations, to bring out the specialized curated walks which occur outside our featured tours. For more information on these, keep checking the updates on our
What's On!
Calendar and our social media feed, or
Contact Us
.
If you are an educational institution and are interested in Curriculum-based Programs or bookings, we have special programs for students of all age groups. Stay updated on
What's On!
Or
Contact Us