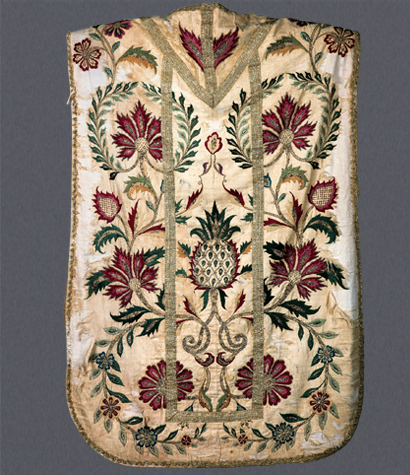 Back to search results
CHASUBLE
This chasuble with its intricate red, green and gold embroidery on white silk is a superb example of Indo-Portuguese art. It displays the influence of highly worked princely Mughal vests with their elaborate Zardozi-laden designs and motifs. Such liturgical garments were often specially commissioned; this one to celebrate, as the red reveals, Christ's Passion at Mass, or perhaps the Pentecost.
The white silk shows off the graceful Persian-inspired composition of plant motifs, with its curving vines and tendrils, acanthus leaves, palm-leaf fronds, stylized red Mughal carnation motifs and marigolds (New World flowers that grew sacred to the Virgin Mary as the name reveals). The chasuble is decorated with gold Zardozi bands at the neck, and is also trimmed with it. At its centre, in a panel edged with bands of gold (in place of the orphreys or decorative bands found on such vestments), is embroidered in red, green and gold a striking pineapple motif.
The pineapple, a New World fruit, became known to Europeans after Columbus's arrival there. By the late 17th century, it was a common European motif, found in art, architecture and household items, including linen. In Christian terms, the pineapple has been interpreted as a symbol for Christ, the Saviour, who gave his life up to redeem the world, analogous to the pineapple plant that gives itself up to produce a single fruit.
...READ MORE
TIME PERIOD:
18th century
MATERIAL:
silk/ polychrome/ gold/ embroidery
INVENTORY NUMBER:
01.1.27
Orlim, St Michael's Church
PUBLICATIONS
Museum of Christian Art, Convent of Santa Monica, Goa, India, Calouste Gulbenkian Foundation, Lisbon, 2011.