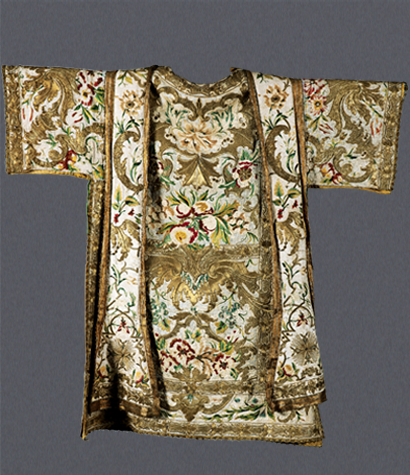 Back to search results
DALMATIC AND MANIPLE
This richly worked dalmatic with matching maniple is a superb example of the Indo-Portuguese embroidery art, and takes its inspiration from the splendour of Mughal courtly garments. The dalmatic was an outer liturgical vestment in use from the 4th century CE. The matching maniple, worn on the left shoulder, was originally used by the priest to wipe his hands and face during Mass. Both the dalmatic and maniple are made of expensive white European silk, and embroidered in 18th century style with gold and coloured silk; the dalmatic is trimmed in yellow silk.
While the Zardozi craft was highly developed during Mughal emperor Akbar's time (1556-1605), it evolved further when it travelled later to other royal courts such as those of Gujarat and Rajasthan. It then became customary for the characteristic geometric motifs of Mughal architecture, as seen in marble inlay work, to be merged with floral themes. This is visible in the dalmatic, but especially in the maniple. The dalmatic's central plant and floral composition in gold and coloured silk thread is in the traditional Zardozi appliqué method, and three-dimensional in effect. The swirling gold tapestry-like stylized vegetal motifs stand out against a delicately wrought field of green, yellow and gold vine leaves interspersed with red blooms. The characteristic feature of the dalmatic are the vertical bands at the front and back, here embroidered gold bands united at the bottom by a cross-stripe. The maniple is trimmed with a similar border, its design matching the dalmatic.
The set was probably commissioned to mark a major celebration in the liturgical calendar. As the red flowers indicate, it was made to celebrate Christ's Passion during Mass, or the Pentecost. Another identical dalmatic, with stole in place of maniple, is part of the museum collection.
...READ MORE
TIME PERIOD:
18th century
MATERIAL:
silk/ gold/ polychrome/ embroidery
DIMENSIONS:
Dalmatic: 106 x 109 cm; Maniple: 100 x 30.5 cm
INVENTORY NUMBER:
01.1.50 (dalmatic), 01.1.49 (maniple)
Old Goa, Basilica of Bom Jesus
PUBLICATIONS
Museum of Christian Art, Convent of Santa Monica, Goa, India, Calouste Gulbenkian Foundation, Lisbon, 2011.