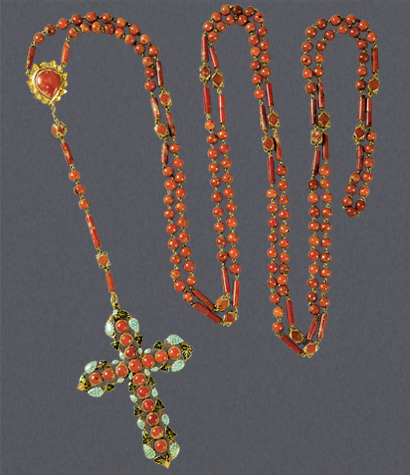 Back to search results
ROSARY INSCRIPTION: 'CELISA QUADROS'
The early rosary was a simple cord tied with knots, a mnemonic device to help count the recited prayers for those who could not read. Over time, it evolved into a piece of real jewellery, made of precious metals and stones, arranged into groups of Ave Marias and Paternosters that alternated to a determined rhythm. This rosary, of gold, coral and enamel, is a beautiful example of the Indian jeweller's art.
Belonging once to Celisa Quadros, as the inscription indicates, it consists of a fine gold chain threaded with the traditional one-hundred-and-fifty Ave Marias and sixteen Paternosters, separated by short rods, all of coral and gold. The coral Salve Regina ('Hail, Holy Queen!') is teardrop-shaped, and surrounded by symbolic gold vine leaves. The pendant Latin cross is wrought with great delicacy, and edged with symbolic clusters of grapes in light-blue and gold enamel alternating with dark-green and gold enamel vine leaves, alluding to the blood of Christ. The cross itself is made up of large coral beads set in gold.
...READ MORE
TIME PERIOD:
20th century
MATERIAL:
gold/ enamel/ coral
DIMENSIONS:
Cross: 9 x 6.5 cm; Total length: 117.5 cm
CLASSIFICATION:
Jewellery
INVENTORY NUMBER:
01.1.64
Donation of the Gama Pinto family, Anjuna, Goa
PUBLICATIONS
Museum of Christian Art, Convent of Santa Monica, Goa, India, Calouste Gulbenkian Foundation, Lisbon, 2011.