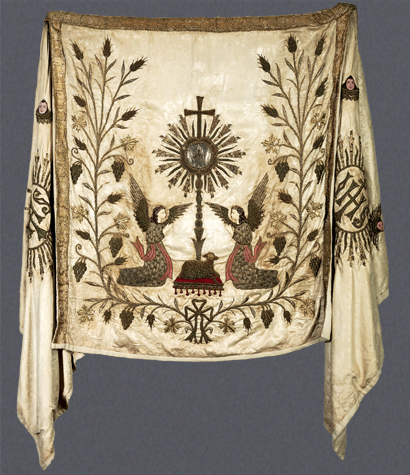 Back to search results
TABERNACLE VEIL
This intricately embroidered Indo-Portuguese tabernacle veil of white silk with gold and polychrome work dates to the 19th century. The use of special veils to cover all except the most monumental of tabernacles was decreed by a Roman Ritual rulebook of 1614. Neither fabric nor colour was specified, except for the prohibition of black, with the decoration to be symbolic of the Eucharist.
The four-part veil has a central design of a sunburst-style monstrance in gold embroidery, with the IHS trigram, signifying Christ, at the top. The monstrance's base rests on the Holy Scriptures embroidered in red silk and gold. On this rich cushion-like base complete with hanging tassels rests a most skilfully embroidered nearly three-dimensional woolly mystic Lamb of God (Agnus Dei), also in gold. Flanking the central composition in red and gold embroidery, and facing each other, are two angels kneeling in prayer. An elegant branching plant design, with symbolic clusters of grapes and wheat ears emerging from a central trefoil (for the Trinity), is embroidered below the main composition, and at its sides. The square, main section of the veil is bordered by a band of geometric self-patterned gold Mughal-style Zardozi.
The side cloths have simpler decorations centred on a circular radiating gold-embroidered design that again contains the IHS trigram, and small winged heads (seraphim). Above the trigrams are visible near-identical faces in what may be Franciscan cowls, perhaps indicating the veil's original commissioning. The upper parts of these sections are embroidered again with clusters of grapes.
...READ MORE
TIME PERIOD:
19th century
MATERIAL:
silk/ polychrome/ gold/ embroidery/ ivory
INVENTORY NUMBER:
01.1.19
PUBLICATIONS
Museum of Christian Art, Convent of Santa Monica, Goa, India, Calouste Gulbenkian Foundation, Lisbon, 2011.