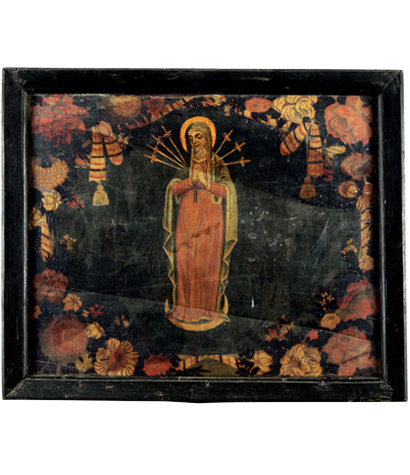 Back to search results
OUR LADY OF SORROWS (THE SEVEN SORROWS)
By the same artist who painted Our Lady of Sorrows (The First Sorrow) found in the museum's collection, the present painting on wood shares subject, palette and mood with it. The dramatic colouring and specific motifs of the painting reveal its Indo-Portuguese origins.
The Seven Sorrows is an elaboration of the theme of The First Sorrow, referring to Simeon the Elder's prophecy in the Temple of Jerusalem of the Virgin Mary's son Jesus' future crucifixion. In this painting, the Virgin Mary stands, hands clasped, head bowed in sorrow, with seven swords piercing her, arranged almost like an aureole around her. Other than Simeon's prophecy, Mary had to endure the flight into Egypt, the Child going missing in the Temple, meeting her son on the Via Dolorosa or path of suffering he took on the way to his crucifixion, the crucifixion itself, the piercing of the side of his body and its bringing down, and his burial. These seven sorrows were transformed in the early 15th century into a devotional practice that recalled the seven joys of Our Lady.
While the dark background reflects the Virgin Mary's mood, the red-and-gold floral motifs of peony, chrysanthemum and lotus along with the striped red-, gold- and black ribbons and gold tassels provide a dramatic Baroque-style Indo-Portuguese frame to the central, Flemish-influenced subject. Here, as in the other painting, the Virgin Mary is seen standing on a crescent moon, more typical of her in depictions of the Immaculate Conception.
...READ MORE
TIME PERIOD:
18th century
MATERIAL:
polychrome/ gilt/ oil/ wood
Old Goa, Pius X Pastoral Institute
PUBLICATIONS
Museum of Christian Art, Convent of Santa Monica, Goa, India, Calouste Gulbenkian Foundation, Lisbon, 2011.