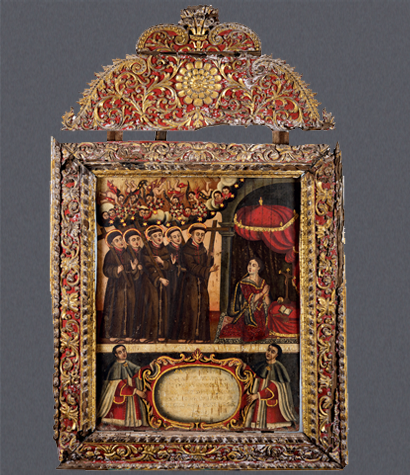 Back to search results
THE HOLY MARTYRS OF MOROCCO
With its resplendent red and gold carved frame, this painting on wood of the Holy Martyrs of Morocco displays both Flemish style and Indian influence, and is a fine example of Indo-Portuguese art.
An account of the Holy Martyrs of Morocco was first published in the Pantheo Sacro (Holy Pantheon) in Lisbon (1790). But the story of how St. Francis of Assisi, the Franciscan Order's founder, sent five friars to the Moorish kingdom in 1219 to spread Christ's word was already well known. When there, the friars were captured and expelled by the Caliph. But they persisted, went back, and this time tried to persuade the king himself of the Good Word. Enraged, he cut off their heads with his scimitar. Their mangled bodies were ransomed by Afonso II of Portugal (1185-1223), and entombed in the church of Santa Cruz in Coimbra.
Here, the Martyrs are shown as already basking in the glory of their sacrifice, symbolized by the cross each carries to present to the richly dressed female penitent at her domestic oratory. She kneels before a crucifix, an open prayer book and a skull, common symbols in 17th century vanitas paintings. Such paintings were meant to be warnings of the transience of life and imminence of death. The friars have halos, and above them are angels and seraphim with garlands of flowers and stars, revealing this to be a heavenly scene. The Flemish-style cartouche carries text, now very faint, that helps identify the painting's subject.
The ornate red and gold carved frame has a rich, curving, symmetrical plant composition at whose very centre is a gilded open lotus blossom, displaying the Indian touch. Carved in solid wood, the painting's corner joints and frame are decorated with a characteristic Indo-Portuguese design of water-leaf and broad ribbons. The gilt embellishments on the painting, seen in the halos, stars and decoration of fabric and cartouche display the Flemish characteristic of representing devotional figures in rich materials to symbolize their importance. The gilding, the carved frame, and the painting itself, with its red and gold palette, reveal the hand of the same artist who created the Holy Family Blessed by the Holy Trinity painting found in the museum's collection.
...READ MORE
TIME PERIOD:
17th century
MATERIAL:
polychrome/ gilt/ oil/ wood/ painted/ gilt/ frame
INVENTORY NUMBER:
02.1.13
Loutolim, Saviour of the World Church
PUBLICATIONS
Museum of Christian Art, Convent of Santa Monica, Goa, India, Calouste Gulbenkian Foundation, Lisbon, 2011.