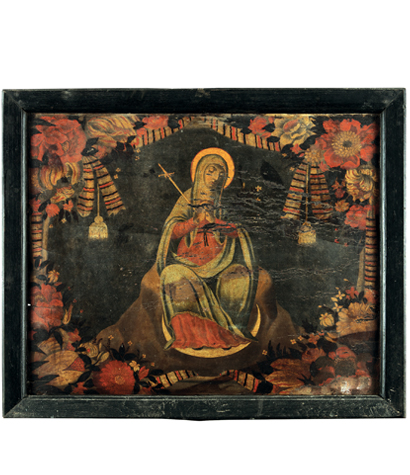 Back to search results
OUR LADY OF SORROWS
Two paintings by the same artist in the museum's collection resemble each other closely: the present painting and The Seven Sorrows. They are similar in theme, palette and in their Indo-Portuguese motifs, and somehow seem more Byzantine than European in effect, perhaps because of the darker colours used, given their mood.
This painting, with the Virgin Mary represented as Our Lady of Sorrows, pierced by a single arrow, is an earlier version of what would evolve into The Seven Sorrows. The reference here is to Simeon the Elder's prophecy in the Temple of Jerusalem, who foresaw the sorrow that would befall the Messiah's mother, telling her a sword would pierce through her soul. The second painting, with seven arrows piercing the Virgin Mary, is meant to recall devotion to the seven joys of Our Lady, a theme which grew popular in early 15th century Europe.
Though dating to the 18th century, this painting on wood is in the Baroque style of the previous century, with the figure of the Virgin Mary in flowing drapery dramatically highlighted in reds and gold against a dark background. She sits on a heap of rocks at Calvary, her hands clasped at her breast, her air one of profound suffering. Framing her in red and gold are peonies, chrysanthemums and lotuses, as also striped red-, gold- and black ribbons with tassels, showing the influence of Flemish religious painting. The intense colouring of the floral motifs and striped ribbons throw the central figure into relief, and reveal their Indo-Portuguese origins. An unusual addition is the crescent moon at the Virgin Mary's feet, usually found in depictions of the Immaculate Conception.
...READ MORE
TIME PERIOD:
18th century
MATERIAL:
polychrome/ gilt/ oil/ wood
DIMENSIONS:
64.5 x 78.5 cm
INVENTORY NUMBER:
02.1.03
Old Goa, Pius X Pastoral Institute
PUBLICATIONS
Museum of Christian Art, Convent of Santa Monica, Goa, India, Calouste Gulbenkian Foundation, Lisbon, 2011.