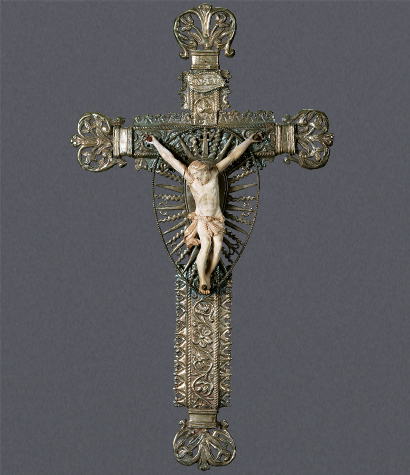 Back to search results
CRUCIFIX
This small beautiful crucifix was meant either to be carried in hand or be suspended in an oratory or small chapel. A regular Latin Cross, with long vertical shaft and short arms, it combines Indian rosewood with silver moulding and the figure of Christ in ivory.
Covered entirely in silver, the shaft and arms are decorated with a coiling leaf decoration that alternates with European-influenced open and closed stylized flowers. At the top of the flowing composition is a small plaque on which the Indian artist, unfamiliar with the Latin alphabet, has yet tried to engrave INRI (Jesus of Nazareth, King of the Jews). The ends of the shaft and arms are decorated with a graceful and lively three-part open floral design.
The image of Christ in ivory, European in aspect, is naturalistic, with a realistic representation of features and anatomy. The drama of the moment is revealed in the face inclined to the right, the treatment of the hair emphasizing the head's recent movement. Baroque influence is visible in the execution of the loincloth, elaborate in design, with a saw-tooth pattern motif, and flowing in appearance. It is suspended by a thick cord left to view, a depiction new at the time the image was made but based on its probable original existence. The delicate silver mandorla (Italian, 'almond-shaped aureole') around the body is composed of straight and wavy rays, its outline finished with the characteristic Indo-Portuguese pearl motif.
...READ MORE
TIME PERIOD:
18th-19th century
MATERIAL:
ivory/ silver/ Indian rosewood
DIMENSIONS:
Cross: 31 x 18 x 4 cm; Image: 10.5 x 8 x 2.5 cm
CLASSIFICATION:
Metalwork
INVENTORY NUMBER:
01.1.66
Donation of the Gama Pinto family, Anjuna
PUBLICATIONS
Museum of Christian Art, Convent of Santa Monica, Goa, India, Calouste Gulbenkian Foundation, Lisbon, 2011.