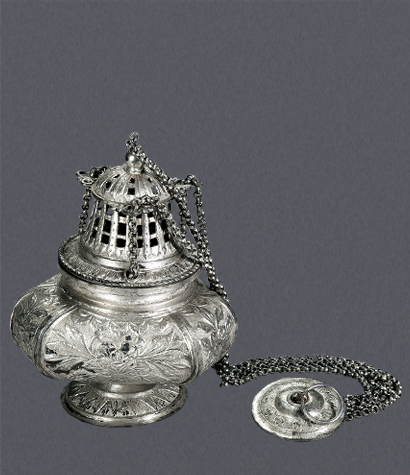 Back to search results
THURIBLE
The thurible or censer is a liturgical object used to perfume the altar, and the church at large, during Mass. Swung in a ritually prescribed manner, it releases aromatic smoke produced by burning incense over hot coals. The silver receptacle of this thurible is rather like a purna kalasha or sacred vessel used in Hindu ritual, topped with a latticed chimney.
Thuribles consist of a lidded container, for the charcoal, with a hand-guard hanging from chains that connects the various parts. This one has a silver chamber and a metallic pan for burning the incense, set on a circular base decorated in relief with radiating foliage against a stippled background. The six-sectioned chamber has a design of open flowers and leaves, again with a stippled background, and is topped by a ring edged with the Indo-Portuguese pearl motif. The chimney above with square openings has a shallow dome with similar, tapered openings, ending in a pinnacle. Stylized leaf motifs and geometric designs are engraved on the chimney.
The four chains by which the thurible is moved and handled are inserted through holes in the chimney's dome. There is a hook on the disc-shaped hand-guard used to hang it up when not in use.
...READ MORE
TIME PERIOD:
Early 19th century
DIMENSIONS:
26 x 20 x (base) ø9 cm
CLASSIFICATION:
Metalwork
INVENTORY NUMBER:
01.1.10 a) and b)
Old Goa, Basilica of Bom Jesus
PUBLICATIONS
Museum of Christian Art, Convent of Santa Monica, Goa, India, Calouste Gulbenkian Foundation, Lisbon, 2011.