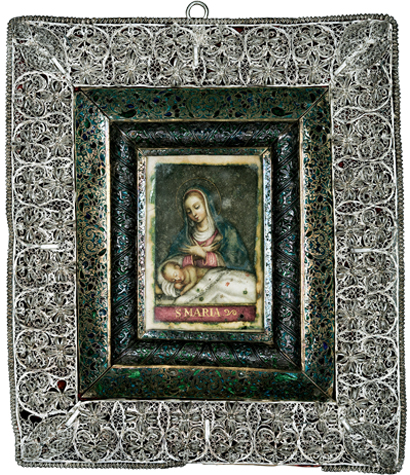 Back to search results
FRAME WITH VIRGIN AND CHILD- LEGEND: S MARIA (HOLY MARY)
This delicate painting of the Virgin as Santa Maria, with her arms folded at her breast, gazing down at her sleeping Child, is an intriguing piece of Indo-Portuguese art. While the painting on paper is likely by a European artist, the three additional frames are the work of one or more Indian ones.
The painting shows the influence of the Italian (Venetian?) Renaissance style of the second half of the 17th century, with its half-length rendition of a beautiful young Virgin Mary; the rounded yet slender hands with long, tapering fingers are also typically Italianate. The Virgin is dressed in her customary red robe and blue mantle, and has a simple gold halo. The Child lies asleep, head resting on one hand, beneath the soft folds of a lace-trimmed white coverlet with small orange and green floral motifs.
The painting has multiple frames. The narrow, innermost frame is in blue-green and gold enamel, and has a quatrefoil pattern interspersed with curving stylized leaf motifs; it was probably painted by the original artist. The immediate outer enamel frame in blue-green and silver-white with touches of gold displays the artist's whimsy, visible in the deer, peacock, hare and dolphin (?) motifs among the floral ones, all placed between diagonal pearl-edged bands. In decorative style, this frame has little to do with the central theme, leading to the possibility of a second artist, one perhaps responding to the child in the image but unfamiliar with the context. A second outer enamel frame of blue-green carries scrolling Mughal-style mango (Paisley) motifs in gold. The fine silver filigree work of the outermost frame recalls the famed Tarakasi style of Odisha. It has stylized flowers and butterfly/dragonfly motifs in cartouches formed by a running floral arch design, with leaf-motifs at the corners. The edge is finished in spiralling silver trim. This specialized work suggests the involvement of a third artist, a silversmith.
...READ MORE
TIME PERIOD:
17th century
MATERIAL:
silver/ enamel/ polychrome/ gilt/ painting/ paper
DIMENSIONS:
27 x 22.5 x 2.9 cm
CLASSIFICATION:
Metalwork
INVENTORY NUMBER:
01.1.55
Old Goa, Basilica of Bom Jesus
PUBLICATIONS
Museum of Christian Art, Convent of Santa Monica, Goa, India, Calouste Gulbenkian Foundation, Lisbon, 2011.