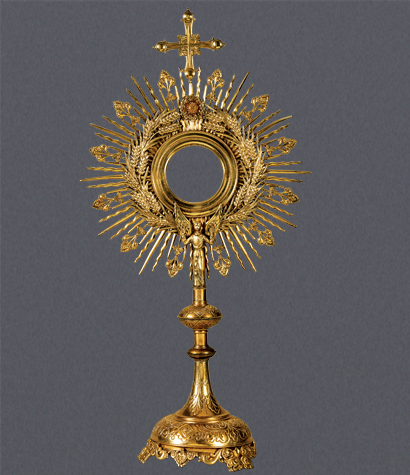 Back to search results
MONSTRANCE
The monstrance or ostensory presents the sacred Host for Eucharistic adoration. Elaborate in design, it is meant to be portable, being carried by the priest. The traditional monstrance follows the sunburst motif as here, characteristic of the church metalwork of the Baroque period in early 17th century Europe.
The monstrance was often made of gilt silver and richly decorated to attract and dazzle the faithful. This one is embellished with white gemstones (crystal or zirconium) designed to catch the light. The monstrance has a hexagonal base on three levels, two in plain gilt silver with white stones, while the middle section has a continuous frieze of eyelets at the base. The very short stem has the form of a gored gilt silver urn and is separated by a ring that unites the two parts. The top section is attached to the base by two flattened spheres, one above the other, which are also in silver. The circular ostensory is in sunburst style, with alternating straight and curving rays, and decorated with white stones. Supporting it is a carved silver seraph or angel's head with three pairs of wings. From the lowest pair hang three of the four original tintinnabula or small bells. The bells are typically Indian in form, with ridges, unlike their smooth-silhouetted European counterparts.
The decorative simplicity of this monstrance is not typically Indo-Portuguese but the addition of the bells, and the wings and features of the seraph reveal its Indian origins. The resemblance of the monstrance's design to the Jesuit emblem, with its straight and curving sunrays, is worth noting.
...READ MORE
TIME PERIOD:
Early 20th century
CLASSIFICATION:
Metalwork
INVENTORY NUMBER:
01.1.107
PUBLICATIONS
Museum of Christian Art, Convent of Santa Monica, Goa, India, Calouste Gulbenkian Foundation, Lisbon, 2011.